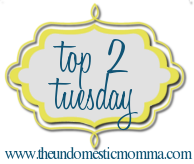 I'm not gonna lie... sometimes I think about what I'm going to blog about all the way home from work and then come home and sit at the computer and
still
don't have any ideas. So, I've decided to link up on Tuesdays and do Top 2 Tuesday with
The Undomestic Momma
. Check her out.
This week it's-
Things you've learned from your parents or grandparents
Both are things my Dad would always say...
If there's a will, there's a way-
I always hated hearing that from him when I was younger. I would hear it all.the.time! And just a few weeks ago when I was talking to my youngest brother, he said he always remembers my Dad saying that too. It's definitely something that has stuck with us.
Work before play-
Now, I'm not sayin' I always listen to this bit of advice all the time. However, I do think it's good advice. I actually use it in my classroom a lot. The kids know on special days (Christmas, Valentine's Day) when we have extra "fun" activities, we have to do our work first.